Introducing… The Zeitgeist Card
Life moves pretty fast… One minute everyone is a Social Media Consultant, the next they're a Hyperlocal Blogger. No sooner do you catch up then you find people are Open Data Advocates and Social Technologists. A Twitter bio can be changed quickly, but the waves of creative destruction and disruptive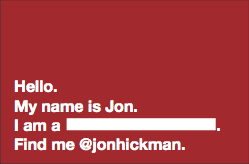 Life moves pretty fast…
One minute everyone is a Social Media Consultant, the next they're a Hyperlocal Blogger. No sooner do you catch up then you find people are Open Data Advocates and Social Technologists. A Twitter bio can be changed quickly, but the waves of creative destruction and disruptive technology have yet to displace the connective node's meatspace leave piece – the humble business card.
I've been hard at work coming up with a solution to this problem, and now the Zeitgeist Card v1.0 is ready for release. It comes in striking red block colour with crisp Helvetica Neue text and a handy box for you to write in this week's buzz job title. Contact details? Why the universal language of a Twitter handle is all you need.
Your frand can breathe easily in the ample negative space, and fans of retro kitsch will adore the call back to the famous "hello my name is" sticker.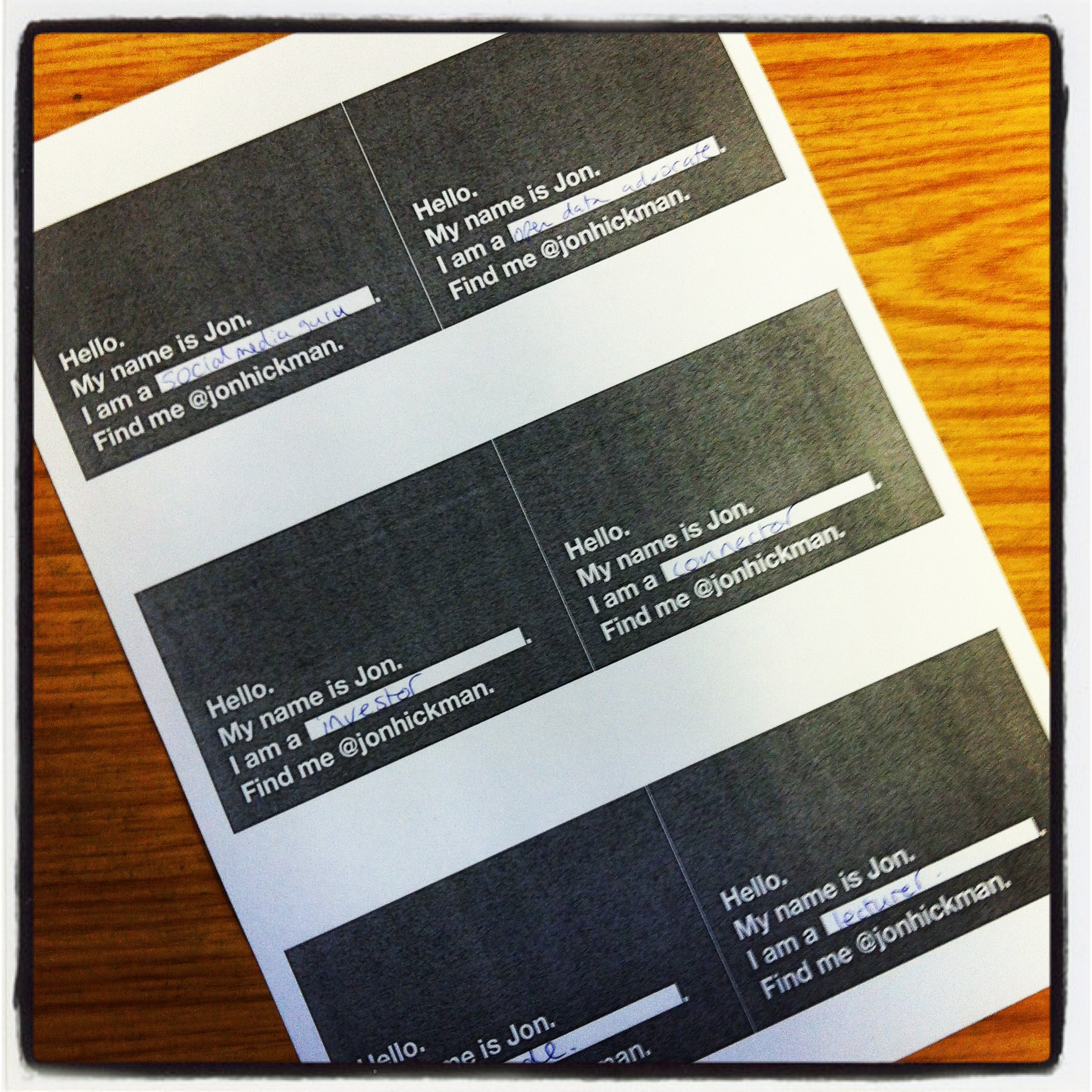 Here's an early draft in action – see how I can effortlessly negotiate the digital space by attaching myself to any passing tech agenda. This is bleeding edge future think – here comes everybody and they're looking at my business cards!
You can download  the zeitgeist artwork in PDF or here's the InDesign file – you can have it all under CC license. Just don't forget to change my name and Twitter to yours, you silly moo.
---
Share this: